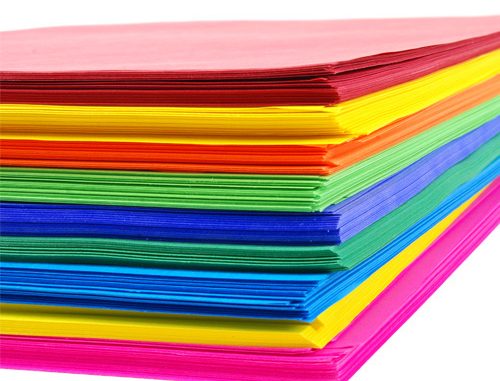 There isn't one specific paper that will be able to fit every project you want completed. Most projects have certain standard paper types that are used specifically for the best outcome. With our experience here at Broken Cartons, we want to help. In addition to the variety of physical attributes paper has, your choice of paper also depends on a personal preference intended to please your audience. Here are some tips to take into consideration when choosing the right paper for your job.
Paper Type – When you first pick up a piece of paper, the paper it's printed on catches your eye way before you begin to read. Paper is available in text, writing and cover. Type of paper selected is determined by the end use of the printed piece. There are some questions you may want to ask yourself before choosing your paper type. What is the purpose of the item? Are they thick business cards or tri-fold brochures that need to be printed on a thin paper? Will the paper need to be scored? Do I need specialty paper, or regular card stock? What type of impression am I trying to make with this job? Do I want my paper recycled?
Color – Paper is available in a wide range of colors, and color is the number one attbiubute when looking for the right paper. Although there are many colors beyond the basic white and ivory, using white paper is one of the best ways to display color in its truest form. Many businesses use white paper to either be formal or casual. Ivory papers, which are a bit warmer than white, are commonly used in offices. Neutral colors can still be used in a professional setting to maintain a good appearance, such as gray or beige. Or, you can step up your color choices by using specialty colors such as blue, coral, rose, etc. We have access to most swatch books.
Finish – Paper is also available in a variety of finishes. Woven paper comes out with a smooth finish with almost no texture. Linen paper has the same look and feel as the linen fabric. The patterns on the paper may resemble those to a linen tablecloth, and text and other designs can feel slightly embossed. Laid paper looks like paper with value. It's texture makes it seem as if it was crafted in the earlier days. Most laid paper is made up of a texture consisting of horizontal and/or vertical ribs called "chain lines". Granite paper gives your printing dimension without any texture, and a smooth feel. Parchment paper was originally made from animal skins however today is crafted just to resemble the appearance. Parchment paper can be used for important documents or even a common newsletter. And, laser paper is the smoothest finish of them all. Images are displayed with incredibly clear quality and the paper works very well in all inkjet laser printers and copiers. These finishes can be examined in a paper swatch, which is available from your printer or paper merchant.
Basis Weight – Paper comes in several different basis weights usually ranging from 20 lbs to 32 lbs. The basis weight is usually determined by the end use of the printed piece. However, something to remember when choosing paper is the heavier your basis weight is, the thicker your paper. And the thicker your paper is, the more attention it will grab. 20 lb. bond papers are commonly used for copies, interoffice memos, or reports. 24 lb. bond paper can range from letterheads to invitations to menus to reports. 24 lb. paper is perfect for almost any simple printing job that has enough substance to grab the desired attention. 32 lb. bond paper is used for important documents, such as resumes, or invitations with plenty of graphics and bold colors. The heavyweight 32 lb. bond paper displays images clearly and captures attention in a bold way. 65 lb. bond paper can be used for business cards, greeting cards, menus, signs, or even school projects. Envelopes should be chosen with equal weight to the paper.
Size – Choosing the right size of paper will take some assessment on your part. Paper size should also be discussed with printer at the design stage. It should be chosen according to your job, and personal liking of course.